SEPTEMBER 2017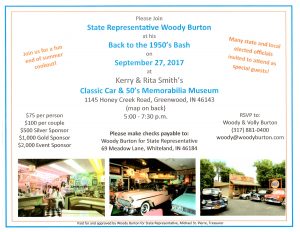 Back to the 50's Bash.  A couple of years ago we had an event at Kerry & Rita Smith's private museum in Greenwood.  Everyone who attended loved it.  The Smiths have since added another building on their property with even more exciting exhibits to experience including the car from the movie Christine and Ray Skillman's NHRA winning drag racing car.
When September 27. 2017
5:00 p.m. – 7:30 p.m.
Where At Kerry and Rita Smith's Classic Car and 50's Memorabilia Museum
1145 Honey Creek Road
Greenwood, IN 46143
To RSVP call Volly Burton at 317-881-0400 or email woody@woodyburton.com.
$75 Per Person
$100 Per Couple
$500 Silver Sponsor
$1,000 Gold Sponsor
$2,000 Event Sponsor
Check back soon for upcoming events!