Center Grove High School and Whiteland Community High School were among 73 schools honored during Wednesday's Indiana AP Recognition Ceremony at the Statehouse, according to State Rep. Woody Burton.
The Indiana Department of Education and Indiana College Board celebrated the success of these schools, where at least 25 percent of the graduating class earned a score of three or higher on at least one AP exam.
"It takes a great deal of dedication and hard work to succeed in an AP course and score well on the exam," Burton said. "Our students are extremely lucky to have an excellent support system in our teachers and administrators. Thank you to the educators who encourage young Hoosiers to challenge themselves academically, and congratulations to the students who worked incredibly hard to help earn this distinction."
Burton said AP exams are tests taken by high school students after they complete a course designed to demonstrate they are prepared to handle college-level work. With a successful score, these students can also earn college credit. These exams are developed by the College Board, a mission-driven, not-for-profit organization that connects students to success and opportunity in higher education.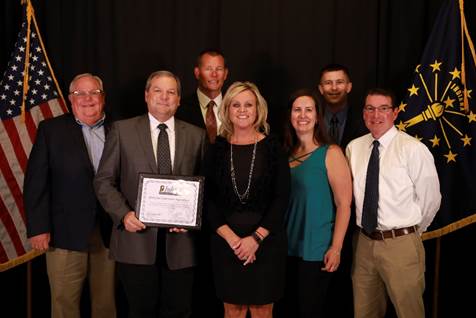 Whiteland Community High School (pictured left to right): State Rep. Woody Burton (R-Whiteland), Whiteland Community High School Principal Tom Zobel, Clark-Pleasant Community Schools Superintendent Patrick Spray, State Superintendent of Public Instruction Dr. Jennifer McCormick, English teacher Brooke Fuentes, math teacher Brian Lukich and Whiteland Community High School counselor Dave McMillan.